Church of St Mary Magdalene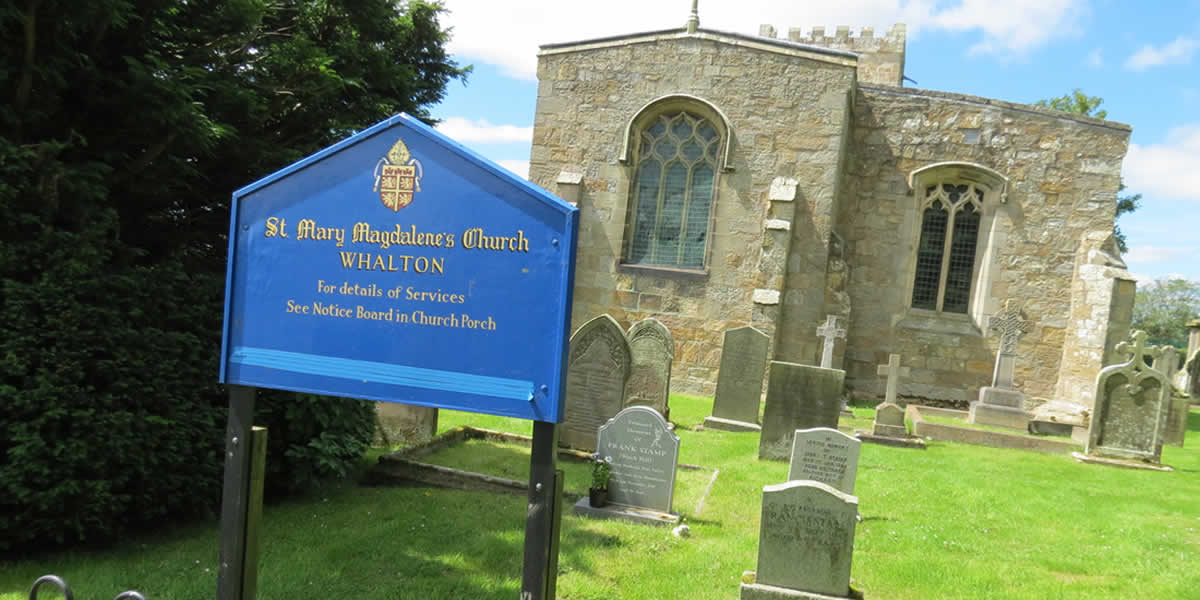 The Parish Church of St Mary Magdalene in Whalton dates from the 13th century, having been developed from a previous Norman building. A detailed guide of its history and architecture by Dr Geoffrey Briggs is available in the church for a small donation.
St Mary Magdalene is open every day from 9.00 am to 5.00 pm and welcomes visitors, many of whom come to see the historic church and "The Whalton Christ", a unique combination of photographs of the Whalton community created for the Millennium that together make an image of the head of Christ.
One of five churches in the Benefice, the others being St Andrew's, Bolam, St Giles, Netherwitton, St Andrew's, Hartburn and St John the Evangelist in Meldon, that are all in regular use, of significant historic interest and extremely picturesque.
Whalton Village School is a Church of England School and the children have designed guides to the village which are available in the church.
The church plays its part in the annual Whalton Village Show and various other fundraising events.
Regular services in Whalton include Holy Communion on the first and third Sundays of each month at 9.30 am, and a monthly Family Service on the fourth Sunday of the month at 10.00 am. Details of annual festival celebrations of Easter, Christmas, and Harvest as well as joint Benefice services can be found on the notice board inside the church porch.
Priest in Charge: Revd Jonathan Mason The Vicarage, Kirkwhelpington,
01830 540260 This email address is being protected from spambots. You need JavaScript enabled to view it.
Associate Priest: Revd Fiona Sample South Middleton, Morpeth, NE61 4EB
01670 772425 This email address is being protected from spambots. You need JavaScript enabled to view it.
he Vicarage,
Kirkwhelpington
South Middleton.
Morpeth
Associate Lay Minister: Mrs PamWalker: The Tower House, Hartburn,
01670 772301 This email address is being protected from spambots. You need JavaScript enabled to view it.
Parochial Church Council members and Church Wardens:
Church Warden - Marlene Young: 01670 775453 This email address is being protected from spambots. You need JavaScript enabled to view it.
PCC Members:
Prof Gary Holmes (Chair)
Sheila Lough
Hugh Lough
Pat Grix
Wendy Sheldon
Di Robertson
James Rainbow
Lady Bradbeer
Marlene Young
Lucy Bird
Rev Jonathan Mason
Rev Fiona Sample
Mrs Pam Walker
Parish Magazine:
"The Benefice News" covers St Mary Magdalene, Whalton and the other four churches in the Benefice.
To view the latest edition of the Parish Magazine please click here
If you have any articles for the next edition please email the Editor: This email address is being protected from spambots. You need JavaScript enabled to view it.
Articles and information for inclusion in the News should be sent to the editor by 15th of each month 6pm
Copies of the News are available from Pooh Stafford ( 01670 772313) This email address is being protected from spambots. You need JavaScript enabled to view it.
at £5 for the year (hand delivered), £12 for the year (postal) and £3 for the year (email).
The Whalton Christ
As part of the Millennium celebrations in 2000 every household in Whalton was given a disposable camera to enable each family to record images of what Whalton meant to them. The 2850 images were exhibited in the Village Hall and a set of the prints was then used by artist Ian Johnson from Broomhill, Northumberland, to create a montage of the head of Christ now on display in the church.
To view the church from above please click on this link: Aerial View of Whalton Church